Midday Stock Roundup
Monday, July 6, 2015
Share this article: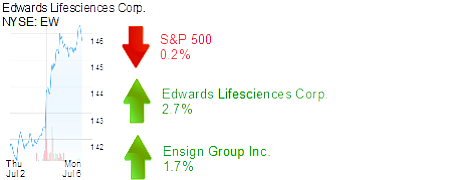 The S&P 500 was down 0.2% in midday trading to 2,072.39.
The Dow Jones Industrial Average was down 0.2% to 17,703.22.
The Nasdaq was down 0.2% to 4,997.29.
The yield on a 10-year Treasury bond was down 3.2% to 2.32%.
The price of gold was up 0.3% to $1,169.
HEALTHCARE
Shares of Edwards Lifesciences Corp. were up 2.7% to $146.24 each and to a market capitalization of $15.6 billion.
Equity research analysts at Morgan Stanley this morning upgraded the Irvine-based heart valve maker from "equal weight" to "overweight."
Ensign Group Inc. stock was up 1.7% to $51.35 a share and a market capitalization of $1.3 billion. The increase came as the Mission Viejo-based owner and operator of nursing and rehabilitative care services announced it has acquired Buena Vista Hospice, a Westlake Village-based hospice agency primarily operating in Ventura County.