Asics Licensee Could Shutter Stores
Monday, July 6, 2015
Share this article: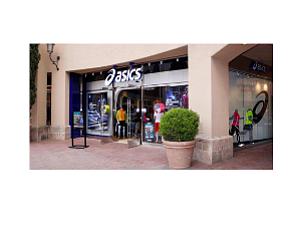 Asics America Corp. in Irvine said it ended its retail operating agreement with Windsor Financial Group LLC and that it anticipates the former licensee will shutter its 13 stores in response, including the Fashion Island location in Newport Beach.
The footwear and apparel company, part of Japan-based Asics Corp., said the agreement, in place since 2012, "was terminated following material breaches" by New York-based Windsor.
"Asics America remains committed to providing excellent retail experiences for our loyal customers," Chief Executive Kevin Wulff said in a statement. "While it is unfortunate the relationship with this partner did not work out, the experience has taught us a lot about the direction we need to go with respect to retail stores. In the meantime, Asics products remain fully available online and through specialty and sporting goods establishments around the country."
Windsor is "disappointed" by Asics' "purported termination of its retail operating agreement with Windsor," the company said in a statement.
"Windsor has been a faithful collaborator committed to bringing the Asics' experience to the retail consumer," said company's President and Chief Executive Armando Ruiz. " It is unfortunate that Asics America and [Asics Corp.] have so abruptly undermined Windsor's efforts to continue Asics' retail development."
Asics sells most of its merchandise through more than 1,000 wholesale customers, including Sports Authority and Nordstrom. Its outlet stores—including the Orange location—are unaffected and will remain open. The brand "continues to believe in the retail model and is dedicated to servicing its dynamic consumer base through this channel in the future," the company said.
Asics surpassed $1 billion in net sales for the first time last year, a 14.9% year-over-year increase, and has said expects about 14% growth this year. It opened its first company-owned store in New York City in 2009, followed by a Fashion Island location in August 2013. Eleven more stores followed last year, including a new flagship location in Times Square in Manhattan. Asics had plans for 10 store openings this year.