Midday Stock Roundup
Thursday, January 29, 2015
Share this article: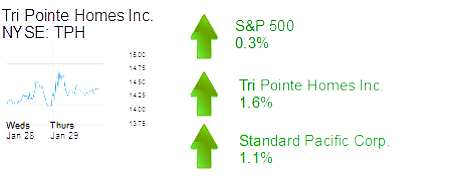 The S&P 500 was up 0.3% to 2,007.51 in midday trading.
The Dow Jones Industrial Average was up 0.6% to 17,299.24 and the Nasdaq was up 0.1% to 4,643.62.
The yield on a 10-year Treasury bond rose 1.86% to 1.76%.
The price of gold fell 2.45% to $1,255.60.
HOMEBUILDING
OC builders were up on the Federal Reserve signaling it would keep short-term rates near zero until mid-year, and a forecast by the National Association of Realtors that sales of existing homes would grow 6.6% this year, to more than 5.25 million, the highest total since 2006. The national median home price should also climb 4% to 5%, the group said.
Irvine-based Tri Pointe Homes was up 1.6% to $14.46 and a market cap of $2.3 billion. Irvine-based Standard Pacific Corp. was up 1.1% to $7.12 and a market cap of $2 billion. Newport Beach-based William Lyon Homes was up 3% to $18.86 and a market cap of $590 million. Aliso Viejo-based New Home Co. LLC was up 2.2% to $13.52 and a market cap of $222 million.