Midday Stock Roundup
Wednesday, January 28, 2015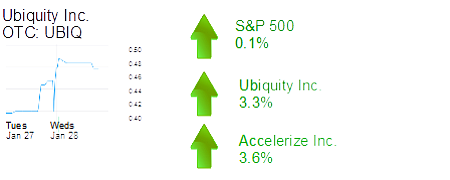 The S&P 500 was up 0.1% to 2,032.65 in midday trading.
The Dow Jones Industrial Average was up 0.3% to 17,439.71 and the Nasdaq was up 0.5% to 4,707.61.
The yield on a 10-year Treasury bond declined 1.8% to 1.8%.
The price of gold fell 0.4% to $1,286.60.
SERVICES
Irvine-based Ubiquity Inc. was up 3.3% to 45 cents and a market cap of about $46 million on news the patent licensing company would buy "Internet of Things" manufacturer Coversant Inc. for about 13.2 million shares of Ubiquity stock. Coversant had revenues last year of about $1.2 million.
Newport Beach-based Accelerize Inc. was up 3.6% to $1.45 and a market cap of about $91 million after Vista Partners in San Francisco reiterated a 12-month price target of $3.50 on shares of the marketing software firm.
TECHNOLOGY
Irvine-based Western Digital Corp. was up 3.3% to $100.84 and a market cap of about $23.4 billion on higher-than-expected quarterly earnings results for the storage products maker.