El Pollo Loco a Takeover Target?
Friday, January 23, 2015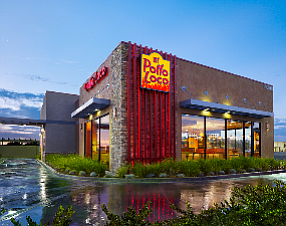 Costa Mesa-based El Pollo Loco Holdings Inc. has been mentioned as a possible takeover target after news reports that a Philippines-based restaurant company is shopping for a U.S.-based regional fast food chain worth at least $1 billion.
The first report surfaced in a newspaper in the Philippines in an interview with the chairman of Jollibee Foods Corp., that country's largest fast food franchisor. The company confirmed the comments in a regulatory filing, though a spokesperson said she knew of no formal talks with any U.S.-based company.
Jollibee also said it may seek an equity partner in the U.S. to help with a deal.
Janney Montgomery Scott analyst Mark Kalinowski—who in late November floated the idea of a spin-off of Irvine-based Taco Bell Corp. from Yum Brands—cited six companies that met Jollibee's criteria.
El Pollo Loco was one of the six.
It traded midday at about a $980 million market cap and has about 400 restaurants—more than 80% in California. Chief Executive Steve Sather has said its long-term plan is to grow to more than 2,000 locations.
About 50 of its locations are in Orange County.
El Pollo Loco most recently reported annual system-wide sales of $657.6 million.
Kalinowski said El Pollo Loco was less likely than other chains on his list because it tries to position itself slightly above other fast food or "quick service" restaurants.