Midday Stock Roundup
Thursday, January 22, 2015
Share this article: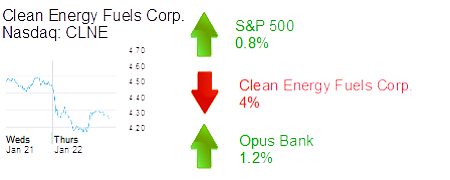 The S&P 500 was up 0.8% to 2,048.11 in midday trading.
The Dow Jones Industrial Average was up 0.7% to 17,684.35, and the Nasdaq was up 0.9% to 4,710.32.
The yield on a 10-year Treasury bond rose 1.83% to 1.89%.
The price of gold rose 0.7% to $1,302.50.
SERVICES
Newport Beach-based Clean Energy Fuels Corp. was down 4% to $4.27 and a $393.5 million market cap on reports of warmer weather this winter that resulted in higher supply and lower prices, and this week's sell-off of natural gas futures. Citigroup Inc. this week lowered its price target for the stock from $7.50 to $4.80.
BANKING
Irvine-based Opus Bank was up 1.2% to $25.33 and a $712 million market cap on news that it would buy Commerce Escrow Co. and RPM Investments, both in Los Angeles.