Janus Confirms Gross Put Own Money Into Fund
Thursday, January 22, 2015
Share this article: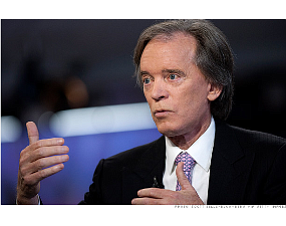 Janus Capital Group Inc. Chief Executive Dick Weil confirmed that Bill Gross has put more than $700 million of his own money into the Janus Unconstrained Bond Fund, which Gross manages.
It had been reported that the Janus fund got a $700 million investment from a wealth management office in La Jolla where Gross' financial adviser works.
Gross left Pacific Investment Management Co. in late September for Janus. He began managing the Janus Unconstrained Bond Fund in October. The fund added about $360 million in assets in October, to grow to $443 million. It drew about $770 million more in November, and another $175 million in December, finishing the year at about $1.4 billion.
Newport Beach-based Pimco, meanwhile, saw its assets fall from nearly $2 trillion in September to about $1.68 trillion.
Weil's confirmation of Gross' investment came during Janus's fourth-quarter and full-year earnings call Thursday.
Denver-based Janus said it drew $2 billion in deposits across all of its funds in the fourth quarter, the first quarterly net inflow since 2009.
Fourth quarter profit was $46.7 million, up 22% from the same period a year earlier.
Janus had $183.1 billion in assets under management as of Dec. 31, up about 5% year-over-year.