Del Taco to Enter N.J.
Thursday, January 22, 2015
Share this article: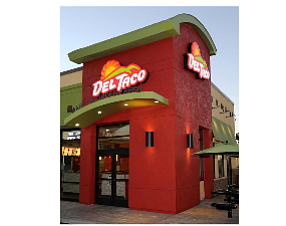 Lake Forest-based Del Taco LLC said it will begin franchising in New Jersey, its first restaurants in the Northeast U.S.
The fast food Mexican-style restaurant chain signed development agreements with two groups there, ADTDNJ LLC and Delite Mex Group.
Each group has exclusive rights in 3 to 4 counties in the state, and each has experience with other restaurant chains, including McDonald's, Subway, Arby's, IHOP, and Dunkin' Donuts locations.
Del Taco said the first new restaurants in New Jersey will open in 2016. The chain declined to offer further details on the deals.
In July the company announced incentives that include reduced franchisee fees and lower royalties for up to three years in exchange for operators who open at least five restaurants in new markets.
The standard initial franchise fee is $35,000 in addition to other startup costs, and the royalty is 5% of gross sales.
It has about 550 restaurants in 16 states, with $622 million in annual system-wide sales.