Profit Up for CalFirst
Wednesday, January 21, 2015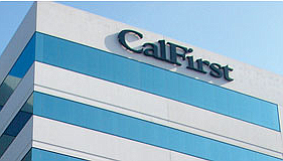 Irvine-based California First National Bancorp posted $3.6 million in profit for the three months ended Dec. 31, up 63% from the same period a year ago.
The increase was due to an increase in interest income, as well as to a "pre-tax recovery" of about $2.7 million from the settlement of claims filed in an antitrust case, the bank said.
Interest income for the bank's fiscal second quarter grew 17% to $5.7 million.
Noninterest income more than doubled to $4.7 million.
California First had $652 million in assets as of Dec. 31, up 18% year-over-year.
Net investment in leases and loans was $502 million, up about 20% year-over-year.
Chief Executive Patrick Paddon said the bank received approval from the Officer of the Comptroller of the Currency to eliminate certain "limitations previously imposed on CalFirst Bank's ability to grow the loan portfolio."