Hyundai Introduces Concept Truck
Monday, January 12, 2015
Share this article: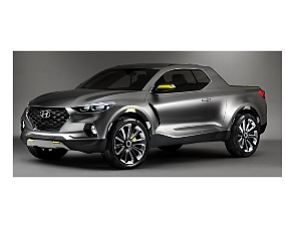 Hyundai Motor America Inc. revealed a crossover truck concept car Monday at the North American International Auto Show in Detroit.
The truck—named Santa Cruz—features four doors and seating for five but has the overall footprint of a small CUV. It also has "an environmentally-friendly" 2.0-liter turbo diesel powertrain, promising to deliver 190 horsepower and 300 pounds per foot of torque while achieving fuel economy in the high 30 miles per gallon range.
Its other attributes include an all-wheel drive system, "a hexagonal grille with cascading lines framing the sides," and an expandable truck bed.
"The Santa Cruz crossover truck concept meets the unspoken needs of a growing Millennial lifestyle we call 'Urban Adventurers,'" Mark Dipko, the Fountain Valley-based automaker's director of corporate planning, said in a statement. "This new crossover allows them all the expandable utility they need throughout their active week."