Wienerschnitzel Parent Shutters Fast Casual Restaurant
Thursday, January 8, 2015
Share this article: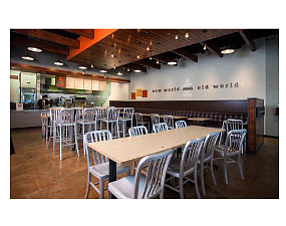 Irvine-based Galardi Group Inc. closed its Two Madres Mexican Kitchen restaurant in Mission Viejo and ended its foray into fast-casual Mexican-style food, according to a news report.
The parent company of the Wienerschnitzel fast-food chain launched Two Madres in August 2013 amid the popularity of fast-casual and build-your-own concepts that have been pioneered most notably by Denver-based Chipotle Mexican Grill.
It hired a chef to oversee menu development for the fresh-made burritos, tacos and salads.
The company said then it would open two restaurants in 2014 and five locations annually, and that it would consider franchising when it hit 10 units.
The Mission Viejo location was its only location.
Galardi's Wienerschnitzel chain has about 350 restaurants.
Galardi Group ranked No. 12 on the Business Journal's most recent list of OC-based restaurant chains, with about $224 million in 2013 systemwide sales.