Midday Stock Roundup
Wednesday, January 7, 2015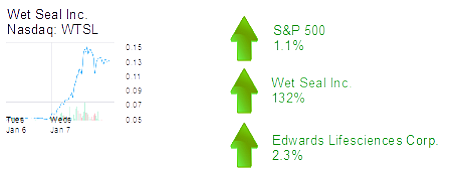 The S&P 500 was up 1.1% to 2,025.20 in midday trading.
The Dow Jones Industrial Average was up 1.1% to 17,562.63 and the Nasdaq was up 1.1% to 4,645.39.
The yield on a 10-year Treasury bond rose 0.8% to 1.98%.
The price of gold declined 0.7% to $1,211.40.
RETAIL
Foothill Ranch-based Wet Seal Inc. more than doubled to 13 cents and a market cap of $11 million. The struggling retailer said it would close about 340 stores—two-thirds of its total—and lay off about 3,700 employees.
HEALTHCARE
OC medical device companies rose today on sector strength after shareholders of Minneapolis-based Medtronic Inc. approved the company's $43 billion acquisition of Covidien Plc in Dublin.
Irvine-based Edwards was up 2.3% to $130 and a market cap of about $14 billion. Irvine-based Masimo was up 2.5% to $27 and a market cap of about $1.4 billion. San Clemente-based ICU Medical was up 3.2% to $83 and a market cap of about $1.3 billion.