Broadcom Notes Design Wins at CES
Wednesday, January 7, 2015
Share this article: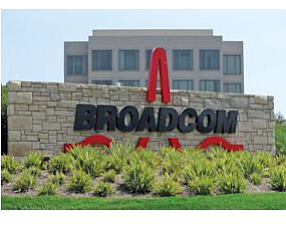 Broadcom Corp. announced two design wins this week at International CES in Las Vegas and also showcased several chipsets geared for the automotive, cable and home networking markets.
The Irvine-based company was selected by Fountain Valley-based D-Link Systems Inc. to supply Wi-Fi chips that power connectivity in D-Link's AV2 2000 Gigabit Starter Kit. The kit, also announced at CES, allows consumers to easily set up a home network and carries a specialized AV2 MIMO certification, which ensures performance is two to three times faster than previous standards.
Broadcom was also chosen by Japanese manufacturer Denon Electronics to supply chips that power a new line of multiroom HEOS Google Cast-ready wireless speakers that allow users to access their favorite music apps, such as Pandora and Google Play, through a home Wi-Fi network.
The company in collaboration with Comcast also demoed a software chip stack for broadband devices that allows cable operators to enhance services, including customized parental controls and firewall protection.
Other announcements included an expanded line of 5G Wi-Fi chips and system-on-a-chip for high-performance consumer routers, wireless gateways and set-top boxes designed to meet the growing demand for wirelessly streaming high-definition content across multiple devices in the home.
It also showcased what's billed as the industry's most power-efficient automotive Ethernet chips and a near-field communication chip that simplifies the setup process for mobile device connectivity in vehicles, a major storyline playing out this week at the world's largest technology convention.