Midday Stock Roundup
Thursday, February 26, 2015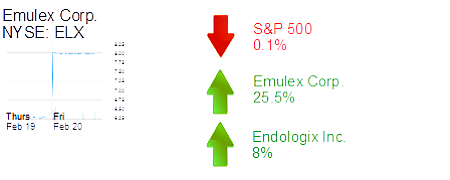 The S&P 500 was down 0.1% to 2,111.13 in midday trading.
The Dow Jones Industrial Average was down 0.1% to 18,212.62, and the Nasdaq was up 0.4% to 4,984.58.
The yield on a 10-year Treasury bond rose 1.57% to 2%.
The price of gold rose 0.7% to $1,209.60.
TECHNOLOGY
Costa Mesa-based Emulex Corp. was up 25.5% to $7.98 and a $574 million market cap. The network connectivity products maker agreed to be acquired for $606 million.
HEALTHCARE
Irvine-based Endologix Inc. is up 8% to $15.79 and a $1 billion market cap. Though its quarterly and annual report Wednesday showed larger losses in both periods, revenue increased for the medical device maker, and the company provided in-line guidance for 2015. It attributed the losses to greater expenses overseas and to research, development and clinical trials.
RETAIL
Irvine-based Boot Barn Holdings Inc. was down 2% to $23.54 and a $605 million market cap. Today marked the end of the company's "lock-up" period after its initial public offering four months ago, when insiders and underwriters can sell their shares. Majority owner Los Angeles-based Freeman Spogli & Co. said it planned to sell 4.5 million shares worth about $100 million.