Ingram Shares Fall on Outlook
Thursday, February 26, 2015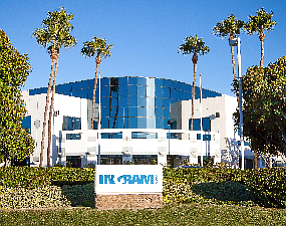 Shares of Ingram Micro Inc. dipped after markets closed Thursday, and continued to decline in midday trading Friday, as the Santa Ana company provided revenue and profit targets in the current quarter below Wall Street expectations.
Investors seized on the sour outlook and sent shares down about 9% Friday to a market value of about $3.9 billion.
For its most recent quarter Ingram said revenue came in well above Wall Street expectations but narrowly missed profit targets.
Sales were about $13.9 billion—up 18% and above analyst estimates of about $12.8 billion. While net income increased 12% from a year earlier to $156 million, or 98 cents per share, this missed the Street's forecasts of 99 cents per share.
Ingram said sales benefited from a strong holiday shopping season and an extra week in the reporting period, but a sinking Euro cut its profits by about $8 million.
The earnings of 98 cents a share were a quarterly record.
For the year Ingram posted record sales of $46.48 billion, up 9% from 2013. Net income of about $267 million was down 14%.
Ingram is the world's largest distributor of computers, software and other technology products with sprawling operations around the globe.
The company projects IT spending to remain stable in 2015, with revenue relatively flat from last year. It said earnings could be affected by as much $23.3 million due to unfavorable currency exchange rates.
Ingram in the current quarter projects revenue in the range of $10.4 billion to $10.7 billion, below Wall Street estimates of $10.84 billion.
Net income is projected in the range of $62.3 million to $73.2 million, below forecasts of $85.7 billion.