Shorebreak Hotel Sells for $58.5M
Tuesday, February 24, 2015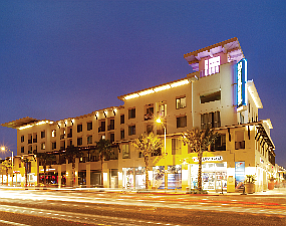 Bethesda, Md.-based DiamondRock Hospitality Co. said it has bought the Shorebreak Hotel in Huntington Beach for $58.5 million.
The deal works out to a price of nearly $373,000 per room for the 157-room boutique hotel, which opened six years ago and is across the street from the Huntington Beach Pier.
DiamondRock said the hotel in 2014 had revenue per available room of about $176, average daily rates of $213, and was 83% occupied.
Kimpton Hotels & Restaurants has been brought on as the new manager for the project, according to DiamondRock. The real estate investment trust owns 28 hotels, including four properties on the West Coast.
San Francisco-based Joie de Vivre Hotels had been managing the Shorebreak.
The hotel property is part of the Strand mixed-use development at 5th Street and Pacific Coast Highway.
The 97,000-square-foot retail portion of the Strand sold earlier this month to Dallas-based Cypress Equities, for undisclosed terms.
CIM Group, a Los Angeles-based real estate investor and developer, opened the Strand in 2008. The 3.5-acre mixed-use project was developed for a reported $90 million.
Both the retail and hotel portions of the development were first listed for sale in 2012, but a deal wasn't completed at the time.