Pyott in Line for $100M Payout
Originally published February 24, 2015 at 10:48 a.m., updated February 24, 2015 at 11:05 a.m.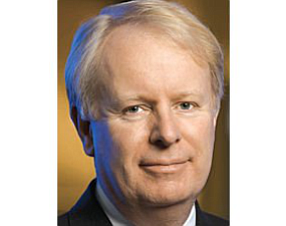 Allergan Inc. Chief Executive David Pyott is in line for a severance payment of $100 million as a result of Actavis PLC's pending buy of the Irvine-based drug maker, according to a federal filing.
Pyott, who has headed Allergan since 1998, would receive some $89 million in cash and stock of the combined company in exchange for unvested equity awards, Allergan said in a Feb. 19 Securities and Exchange Commission filing. The total would be in addition to other payments Pyott will receive.
Dublin, Ireland-based Actavis is acquiring Allergan in a deal currently valued at $70.7 billion.
Pyott is expected to step down from his roles as chairman and chief executive of Allergan once the deal is complete.
Actavis Chief Executive Brent Saunders is expected to retain that post for the combined company, which plans to adopt the Allergan name and operate from its U.S. headquarters in Parsipanny, N.J.
Current Actavis Chairman Paul Bisaro is expected to retain the post in the combined company.
That would appear to clear the way for Pyott to collect the severance package, although it's not clear if a board seat would affect the deal. There is speculation that Pyott will become a director of the combined company's board once the deal is final.
The boards of both companies are expected to vote on the deal on March 10, and a final close is expected later that month or in April.