Fisker Narrows Name to 3 Options
Monday, February 23, 2015
Share this article: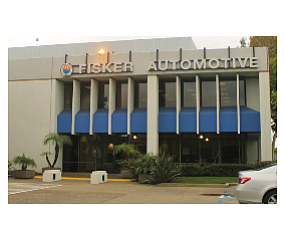 Costa Mesa-based Fisker Automotive and Technologies Group LLC is mulling three options for a possible company name change, according to a source privy to the discussions.
The embattled automaker is debating changing its name to eLux Technology, Elux Automotive or maintaining its current name.
"No decision has been made," the source told the Business Journal, contrary to some published reports circulating online.
The decision to possibly include Lux in the name change would commemorate the company's chairman, Lu Guanqiu, who acquired Fisker about a year ago in a bankruptcy court auction for $149.2 million in cash.
The Chinese billionaire is the founder of Wanxiang Group Corp., one of the largest auto parts makers in China. The company also has major operations in agriculture and fisheries, food and beverage, real estate development, and natural resources, among others.
The various businesses generate more than $20 billion in annual sales and employ 40,000 people.
Lu brought deep pockets and a portfolio of independent businesses to the table, including Fisker's former lithium ion battery maker, A123 Systems Inc., which he acquired two years ago in bankruptcy court for about $256.6 million.
The self-proclaimed car lover aims to resurrect the luxury hybrid brand from the ashes after Fisker burned through more than $1 billion in venture capital funding and government loans, becoming a punching bag for politicos, auto critics, and the press as it spiraled into bankruptcy.
"The goal is to relaunch the Fisker Karma as soon as possible," he told the Business Journal in a sit-down interview before addressing employees late last year in his first visit to Costa Mesa since acquiring the company.
The $100,000 flagship Karma car has sold about 2,000 units since the company was established in 2009 by founders Henrik Fisker and Bernhard Koehler, who remains a key executive.
Fisker resigned in March 2013.