Top Billing for Allergan Name
Wednesday, February 18, 2015
Share this article: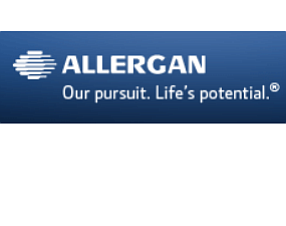 The Allergan name will remain the calling card of the company that will be formed after the Irvine-based drug maker's estimated $69 billion acquisition by Dublin-based Actavis Plc.
The deal is expected to close by early in the second quarter.
Actavis will keep its old name for some products and in some geographic markets.
Actavis Chief Executive Brian Saunders said in an interview the decision to take the Allergan name overall is because the new company will be "a leader in growth pharma."
He said the Allergan name on the combined company recognizes the latter's "powerful heritage" in pharmaceuticals.
Separately, Actavis cited acquisitions driving revenue growth as it raised profit guidance for 2015 by about 6% or $1, from $16.30 per share to $17.30 per share.
Actavis' U.S. operations are based in Parsippany, N.J.
Allergan this morning was trading at a market cap of about $68.3 billion.