Midday Stock Roundup
Friday, February 13, 2015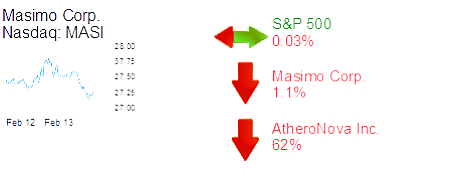 The S&P 500 was flat at 2,089.19 in midday trading.
The Dow Jones Industrial Average was flat at 17,984.08 and the Nasdaq was up 0.3% to 4,869.81.
The yield on a 10-year Treasury bond rose 1.3% to 2.01%.
The price of gold rose 0.5% to $1,226.80.
HEALTHCARE
Irvine-based Masimo Corp. is down 1.1% to $27.28 and a $1.4 billion market cap. The device maker is set to report earnings Tuesday and had previously lowered its revenue outlook. Analysts are also expecting its 2014 results to be adversely affected by a medical device excise tax. Shares are trading at a rate heavier than its 90-day average.
Irvine-based AtheroNova Inc. is down 62% to 12 cents and a $1 million market cap. According to an SEC filing, the development-stage drug maker experienced an "event of default" on a $427,000 loan from Europa International Inc., due in November, which triggered defaults on three other notes that total about $3 million.