Chronic Tacos Charts Growth
Thursday, February 12, 2015
Share this article: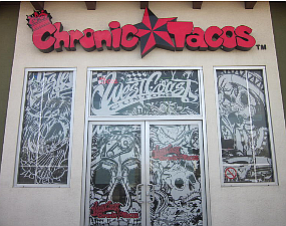 Aliso Viejo-based Chronic Tacos Enterprises Inc. said it has signed multiunit franchise deals for 12 locations in Colorado, three to 12 locations in Washington, and up to 14 in Arizona.
Locations already in development include six in California—one in Costa Mesa—and an East Coast entry with three locations planned for North Carolina.
The fast casual Mexican-style chain currently has 24 locations in California—12 in Orange County—one in Las Vegas, and three in British Columbia, Canada, according to its website.
The single-unit franchisee fee is $40,000, with discounts for multiunit agreements, and franchise and marketing fees are 8%, the website said.
It costs between $250,000 and $500,000 to develop a Chronic Tacos location.
Average unit volumes are about $620,000, according to a news report.
The company had a net loss of about $105,000 on revenue of $1.2 million in 2013, according to documents filed with the state of California.
It was founded in 2002 in Newport Beach by Randall Wyner. Chief Executive Mike Mohammed and his brothers bought a majority stake in the company in March 2012.
"We were able to build a strong corporate franchise team" and develop operational systems for expansion, said Mohammed in a press release. "Chronic Tacos is a strong brand concept sustainable for future growth."
The company said it wants to add 10 locations this year and 20 in 2016 and that it plans to hit 100 restaurants by 2018.