Midday Stock Roundup
Monday, February 9, 2015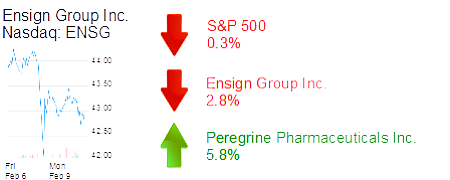 The S&P 500 was down 0.3% to 2,049.81 in midday trading.
The Dow Jones Industrial Average was down 0.4% to 17,747.19, and the Nasdaq was down 0.1% to 4,737.92.
The yield on a 10-year Treasury bond declined 0.2% to 1.93%.
The price of gold rose 0.4% to $1,239.70.
HEALTHCARE
Mission Viejo-based Ensign Group Inc. was down 2.8% to $42.70 and a $960 million market cap. The healthcare facilities operator reported earnings per share in its most recent quarter about 4 cents lower than analysts' estimates.
Tustin-based Peregrine Pharmaceuticals Inc. was up 5.8% to $1.29 and a $235 million market cap. The biopharmaceutical company announced preclinical data it said shows "statistically significant improvement in tumor-fighting immune cells" and other areas from an approach equivalent to using its bavituximab product. First Call Corp. has a consensus "buy" on shares of the company.
TECHNOLOGY
Irvine-based Multi-Fineline Electronix Inc. was up 10.6% to $15.19 and a $369 million market cap. Shares have regained all the ground lost Friday from its current quarter's guidance. The focus today seems to be a buying opportunity from Friday's decline and its solid recent quarter. Volume today is more than four times its 90-day average.
HOMEBUILDING
Irvine-based Standard Pacific Corp. was up 5.6% to $8.13 and a $2.2 billion market cap. The builder is holding its gains from Friday after a positive quarterly report, with shares up about 15% in two days and trading volume about twice its 90-day average.