Midday Stock Roundup
Wednesday, February 4, 2015
Share this article: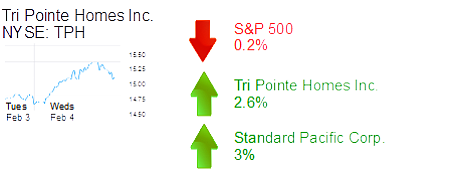 The S&P 500 was down 0.2% to 2,045.18 in midday trading.
The Dow Jones Industrial Average was up 0.2% at 17,700.77, and the Nasdaq was down 0.1% to 4,722.77.
The yield on a 10-year Treasury bond rose 2.3% to 1.82%.
The price of gold rose 0.2% to $1,263.20.
HOMEBUILDING
Orange County homebuilders are up today on a convergence of several reports covering December and January that indicate a strengthening home-buying market.
The U.S. Department of Commerce reported nearly $1 trillion in construction spending for December, as well as an 11.6% boost in new home sales, a 7.2% gain in single-family housing starts, and a 4.4% increase in privately-owned housing starts, compared with November. Building permits are also up, above 1 million, the Commerce Department said. Indicators from the National Association of Realtors, Dow Jones, and Freddie Mac showed a positive trend in home sales. Mortgage interest costs are set to decline, as jobless claims have recently declined and the Consumer Confidence Index increased in January to its highest level in more than seven years.
Irvine-based Tri Pointe Homes was up 2.6% to $15.11 and a $2.4 billion market cap. Irvine-based Standard Pacific Corp. was up 3% to $7.31 and a $2 billion market cap. It reports earnings after market close tomorrow. Newport Beach-based William Lyon Homes was up 2.3% to $20.40 and a $640 million market cap.
HEALTHCARE
Edwards Lifesciences Corp. was up 6.4% to $135.10 and $14.5 billion in market cap on positive quarterly numbers reported yesterday after markets closed. Revenue in its most recent quarter increased 15% year-over-year, while earnings grew 45%. It offered positive guidance for its current quarter and coming year.