Midday Stock Roundup
Tuesday, December 22, 2015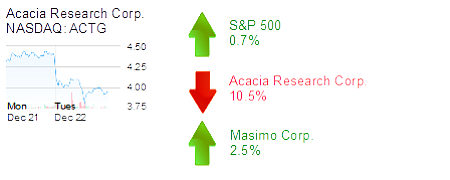 The S&P 500 was up 0.7% in midday trading to 2,035.42.
The Dow Jones Industrial Average was up 0.9% to 17,406.82.
The Nasdaq was up 0.3% to 4,985.41.
The yield on a 10-year Treasury bond was up 1.6% to 2.23%.
The price of gold was down 0.7% to $1,073.
SERVICES
Newport Beach-based Acacia Research Corp. was down 10.5% to $3.93 and a $200 million market cap. The patent licensing company said today its chief executive Matthew Vella resigned, effective Monday. Acacia's shares have fallen 30% over parts of the last three trading sessions since the company received a negative ruling in a patent infringement case.
HEALTHCARE
Irvine-based Masimo Corp. was up 2.5% to $40.46, with a $2 billion market cap on above-average volume. The device maker said it will increase investment in research and development after a two-year moratorium as a medical device tax was signed into law Friday.