Midday Stock Roundup
Thursday, December 17, 2015
Share this article: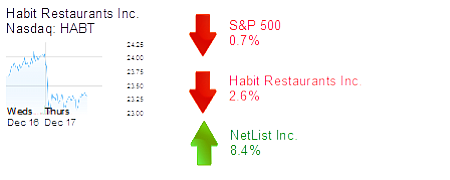 The S&P 500 was down 0.7% in midday trading to 2,058.75.
The Dow Jones Industrial Average was down 0.6% to 17,643.23.
The Nasdaq was down 0.5% to 5,046.83.
The yield on a 10-year Treasury bond was down 1.5% to 2.25%.
The price of gold was down 2.5% to $1,050.
RESTAURANTS
Irvine-based Habit Restaurants Inc. was down 2.6% to $23.40 and a $625 million market cap. The fast casual burger chain said holders could sell up to 14.5 million shares at about $23.42 a share.
TECHNOLOGY
Irvine-based Netlist Inc. was up 8.4% to 83 cents and a $42 million market cap. In a Patent Trial and Appeal Board review the memory subsystem maker "prevailed against SanDisk [on] two Netlist patents," the company said. Irvine-based Western Digital Corp. said in October it would buy Milpitas-based SanDisk Corp. for $19 billion in cash and stock.