Midday Stock Roundup
Monday, August 17, 2015
Share this article: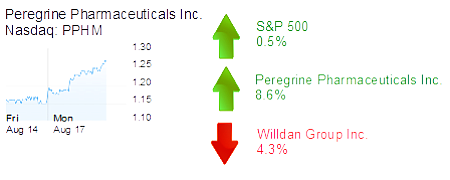 The S&P 500 was up 0.5% in midday trading to 2,100.89.
The Dow Jones Industrial Average was up 0.4% to 17,544.51.
The Nasdaq was up 0.8% to 5,086.11.
The yield on a 10-year Treasury bond was down 2.2% to 2.15%.
The price of gold was up 0.5% to $1,118.
HEALTHCARE
Tustin-based Peregrine Pharmaceuticals Inc. was up 8.6% to $1.26 and a $253 million market cap. Shares have risen about 25% since the cancer drug developer hit a new 52-week low of $1 last week.
Irvine-based NuGene International Inc. was up 29% to $2.14 and an $84 million market cap. The beauty products maker said its second quarter revenue was $536,000, an increase of 152% compared with the same period last year.
RESTAURANTS
Costa Mesa-based El Pollo Loco Holdings Inc. was up 1.8% to $14.87 and a $567 million market cap. The fast food chain's shares are recovering a bit on above-average volume after a decline last week when it reported results for its most recent quarter.
Lake Forest-based Del Taco Restaurants Inc. was down 2.6% to $13.76 and a $534 million market cap. Shares in the fast food chain had traded by midday at more than twice its 90-day average.
SERVICES
Anaheim-based Willdan Group Inc. was down 4.3% to $9.83 and a $77 million market cap. The engineering firm is down about 11% in the last two trading sessions after it missed analyst expectations on earnings.