Midday Stock Roundup
Thursday, August 13, 2015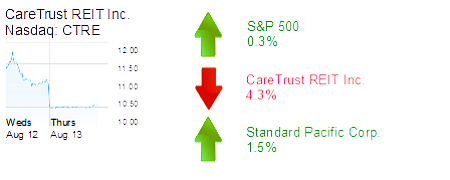 The S&P 500 was up 0.3% in midday trading to 2,092.41.
The Dow Jones Industrial Average was up 0.4% to 17,473.39.
The Nasdaq was up 0.5% to 5,068.88.
The yield on a 10-year Treasury bond was up 2.3% to 2.18%.
The price of gold was down 0.7% to $1,115.
HOMEBUILDING
Orange County homebuilders were up on economic data that showed mortgage delinquency and foreclosure rates have declined to pre-2008 recession levels.
Irvine-based Standard Pacific Corp. was up 1.5% to $8.94 and a $2.5 billion value on its common stock. Irvine-based Tri Pointe Group was up 2% to $14.79 and a $2.4 billion market cap. Newport Beach-based William Lyon Homes was up 1.1% to $25.21 and a $793 million market cap.
HEALTHCARE
San Clemente-based CareTrust REIT Inc. was down 4.3% to $10.58 and a $336 million market cap. The healthcare property owner said it would offer 14.2 million shares, with an over-allotment of 2.1 million, at $10.50 a share, to close on August 18. Proceeds will help pay for a $175 million acquisition of 14 facilities from Ohio-based Liberty Nursing Centers, which is set to close October 1.
Irvine-based NuGene International Inc. declined 45% to $1.22 and a $48 million market cap in a second down day after reporting it lost $730,000 in its most recent quarter. The beauty products maker share price has fallen from $3 last week.
TECHNOLOGY
Mission Viejo-based Cloud Security Corp. was down 48% to $7.50 and a $91 million market cap in a second day of declines after the technology security firm cautioned investors against a recent inflation in its stock price. Cloud Security hit a 52-week high of $19.95 on Tuesday.