El Pollo Loco Down on Revenue Miss
Thursday, August 13, 2015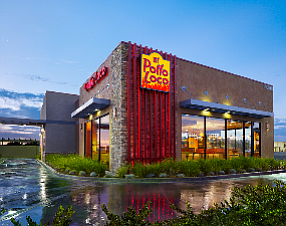 Costa Mesa-based El Pollo Loco Holdings Inc. shares fell more than 18% in midday trading after the company reported quarterly revenue yesterday that was below analyst expectations.
The fast food chain earned $7.2 million on revenue of $89.5 million for its quarter that ended July 1.
Quarterly earnings were in-line with Wall Street forecasts while revenue missed analyst expectations of $93 million.
Earnings were 10% higher and revenue was 3% higher year-over-year.
Systemwide same-store sales rose 1.3%, with company-owned sites down 0.5% and franchised locations up 2.6%.
El Pollo Loco revised downward or set at the low end of previous projections several full-year numbers including systemwide same-store sales, how many new franchised restaurants would open, restaurant margins, and adjusted earnings.
Shares were trading at about $15 and a market cap of about $575 million.
El Pollo Loco went public in July 2014 at $15 a share and dipped below that today for the first time since its IPO.
The chain has about 415 restaurants in five states.