Midday Stock Roundup
Monday, August 10, 2015
Share this article: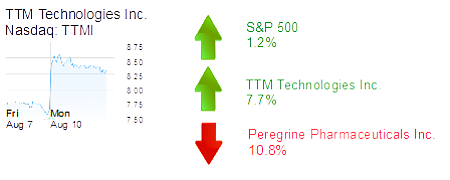 Major indices increased in midday trading on a recovery in oil prices and a boost in industrial stocks fueled by a $32 billion acquisition of an aerospace parts company announced by Berkshire Hathaway.
The S&P 500 was up 1.2% to $2,102.77. The Dow Jones Industrial Average was up 1.4% to 17,613.83. The Nasdaq was up 1.2% to 5,104.02.
The yield on a 10-year Treasury bond was up 3% to 2.24%.
The price of gold was up 1% to $1,104.
TECHNOLOGY
Costa Mesa-based TTM Technologies Inc. was up 7.7% to $8.29 and an $819 million market cap. Analysts at Stifel Nicolaus upgraded shares in the printed circuit board maker from "hold" to "buy" this morning. Shares had declined about 14% in the last two trading sessions after the company issued its most recent quarterly report Wednesday.
HEALTHCARE
Tustin-based Peregrine Pharmaceuticals Inc. was down 10.8% to $1.07 and a $214 million market cap. The cancer treatment developer said in a regulatory filing Friday it had signed agreements with two companies to sell some of the $150 million in common stock allowed by its shelf registration filing on December 23, 2014.
RESTAURANTS
Huntington Beach-based BJ's Restaurants Inc. was down 1.8% to $48.04 and a $1.3 billion market cap. Hedge fund Luxor Capital Group said in a filing that it sold 1 million shares in the casual restaurant chain over the last quarter at a price of about $51, which cut its stake in BJ's from 13.4% to about 10%.
HOMEBUILDING
Newport Beach-based William Lyon Homes was up 3.7% to $25.08 and a $789 million market cap in a second trading day of increases after its quarterly report. Shares rose about 3% on Friday.