Midday Stock Roundup
Friday, August 7, 2015
Share this article: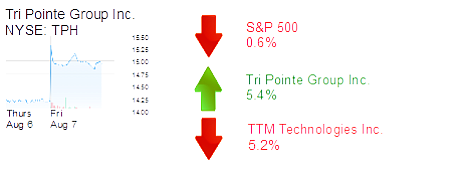 The S&P 500 was up down 0.6% to 2,070.95.
The Dow Jones Industrial Average was down 0.6% to 17,323.44.
The Nasdaq was down 0.8% to 5,015.74.
The yield on a 10-year Treasury bond was down 2.4% to 2.18%.
The price of gold was up 0.4% to $1,094.
HOMEBUILDING
Irvine-based Tri Pointe Group Inc. was up 5.4% to $15 and a $2.4 billion market cap. The builder is set to report its most recent quarterly numbers Monday and its shares had traded by midday at about seven times its 90-day average.
Newport Beach-based William Lyon Homes was up 4.4% to $24.41 and a $767.7 million market cap. The builder reported increased revenues year-over-year in its most recent quarter and earnings that beat analyst expectations.
TECHNOLOGY
Costa Mesa-based TTM Technologies Inc. was down 5.2% to $7.80 and a $770 million market cap in a second day of declines after the printed circuit board maker in its most recent quarterly report Wednesday after markets closed provided future guidance below analyst expectations.
BANKING
Irvine-based Impac Mortgage Holdings Inc. was down 15.2% to $17.60 and a $179 million market cap on its most recent quarterly results, reported after markets closed yesterday, which included adjustments based on the holding company's acquisition of Cash Call Mortgage earlier this year.
SERVICES
Irvine-based Autobytel Inc. was up 12.9% to $17.86 and a $187.2 million market cap. The automobile sales leads provider beat analyst forecasts on earnings in its most recent quarterly report yesterday.
HEALTHCARE
Pacific Health Care Organization Inc. was down 7.4% to $25 and a $20 million market cap on higher than average volume. Shares in the thinly traded workers compensation services provider had changed hands at four times its 90-day volume, by midday.