Midday Stock Roundup
Thursday, August 6, 2015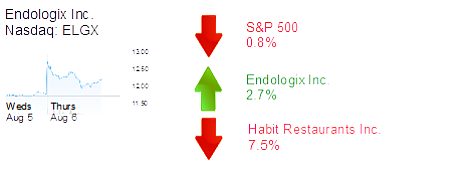 Major indices slumped in midday trading on disappointing quarterly earnings reports by media companies, a rise in jobless claims, and concerns about lower oil prices.
The S&P 500 was down 0.8% to 2,082.33. The Dow Jones Industrial Average was down 0.8% to 17,407.11. The Nasdaq was down 1.6% to 5,056.70.
The yield on a 10-year Treasury bond was down 1.4% to 2.24%.
The price of gold was up 0.4% to $1,089.
HEALTHCARE
Irvine-based Endologix Inc. was up 2.7% to $12.38 and an $834 million market cap. J.P. Morgan upgraded shares of the maker of devices to treat abdominal aortic aneurysms to "overweight" with a price target of $17.
RESTAURANTS
Irvine-based Habit Restaurants Inc. was down 7.5% to $26.48 and a $750 million market cap. The fast-casual burger chain missed analyst expectations on second quarter earnings.