Midday Stock Roundup
Wednesday, August 5, 2015
Share this article: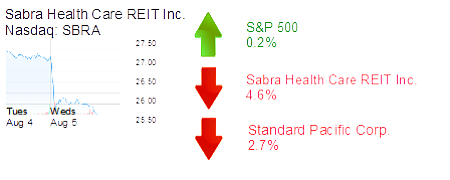 The S&P 500 was up 0.2% in midday trading to 2,097.74.
The Dow Jones Industrial Average was down 0.2% to 17,518.76.
The Nasdaq was up 0.6% to 5,137.63.
The yield on a 10-year Treasury bond was up 2.6% to 2.27%.
The price of gold was down 0.5% to $1,085.
HOMEBUILDING
Orange County homebuilders were down on talk of a possible Federal Reserve rate hike in September.
Irvine-based Standard Pacific Corp. was down 2.7% to $8.42 and a $2.4 billion market value on its common stock. Irvine-based Tri Pointe Group Inc. was down 3% to $14.06 and a $2.3 billion market cap. Newport Beach-based William Lyon Homes was down 3.2% to $22.77 and a $717.4 million market cap. Aliso Viejo-based New Home Co. Inc. was down 2.2% to $16.46 and a $273 million market cap.
Three of the four—New Home Co., William Lyon, and Tri Pointe—are set to report earnings between tomorrow and Monday, respectively. Standard Pacific Corp. reported quarterly earnings last week that were generally in-line with analyst expectations.
HEALTHCARE
Irvine-based Sabra Health Care REIT Inc. was down 4.6% to $25.81 and a $1.7 billion market cap. The health facilities owner missed analyst expectations slightly in its quarterly report Tuesday.
Irvine-based Masimo Corp. was up 5.3% to $44 and a $2.3 billion market cap after a positive quarterly earnings report yesterday.
RETAIL
Irvine-based Boot Barn Holdings Inc. was down 18.6% to $27 and a $697 million market cap after quarterly revenue and future guidance missed analyst expectations.
RESTAURANTS
Costa Mesa-based El Pollo Loco Holdings Inc. was up 2.8% to $19.64 and a $751 million market cap on moderately high volume; the fast food chain is scheduled to report earnings next week.
TECHNOLOGY
Irvine-based Newport Corp. was down 2.7% to $15.16 and a $598 million market cap after the laser maker reported disappointing quarterly earnings and said it would cut jobs.