American Vanguard Buys Herbicide Unit from DuPont
Thursday, April 30, 2015
Share this article: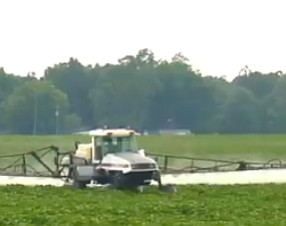 American Vanguard Corp., a Newport Beach-based maker of agricultural chemicals, has through its Netherlands-based international subsidiary, acquired the assets of an herbicide business from E. I. du Pont de Nemours and Co.
Terms of the deal weren't disclosed.
Wilmington, Del.-based DuPont is among the largest chemical companies in the world, with about $66.8 billion in market capitalization. It operates in various segments, including agriculture, industrial biosciences and performance chemicals.
The herbicide unit acquired by American Vanguard focuses on bromacil, an organic compound that's registered as a pesticide. It's used on crops such as citrus, pineapples and asparagus, among others.
American Vanguard's Netherlands unit bought the European insecticide business assets of Israel-based Adama Agricultural Solutions Ltd. earlier this month.
The deal included the crop insecticide product Nemacur which, with American Vanguard's 2010 acquisition of Bayer Crop Science's Nemacur assets outside Europe, gave the company worldwide distribution rights for that product.
American Vanguard had about $299 million in sales last year, with about 34% of it attributed to sales of herbicides, soil fumigants and fungicides, the company said.
Shares of American Vanguard were flat in midday trading at a $316 million market cap.