Midday Stock Roundup
Wednesday, April 29, 2015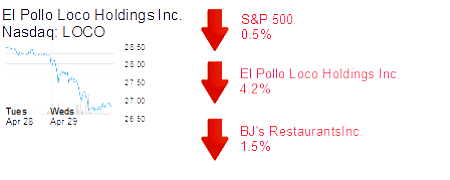 The S&P 500 was down 0.5% to 2,104.63.
The Dow Jones Industrial Average was down 0.5% to 18,022.82. The Nasdaq was down 0.7% to 5,019.23.
The yield on a 10-year Treasury bond was up 3.8% to 2.05%.
The price of gold was down 0.4% to $1,210.
RESTAURANTS
Orange County-based restaurant chains are down on consumer spending and comparable companies' performance: The national economy grew 0.2% in the first quarter, according to the U.S. Commerce Dept., and a dozen publicly traded restaurant companies declined between 4% and 7% in midday trading, more broadly than the wider market—as two national chains, Buffalo Wild Wings Inc. and Panera Bread Co.—reported disappointing quarterly numbers.
Huntington Beach-based BJ's Restaurants Inc. was down 1.5% to $47.82 and a $1.3 billion market cap. Costa Mesa-based El Pollo Loco Holdings Inc. was down 4.2% to $27.08 and a $1 billion market cap. Irvine-based Habit Restaurants Inc. was down 2% to $34.39 and an $890 million market cap.