Midday Stock Roundup
Thursday, April 23, 2015
Share this article: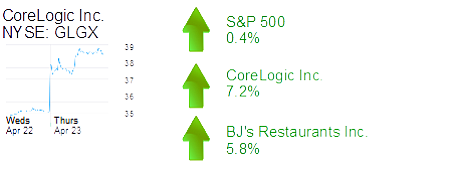 The S&P 500 was up 0.4% to 2,116.75.
The Dow Jones Industrial Average was up 0.4% to 18,109.97. The Nasdaq was up 0.5% to 5,060.46.
The yield on a 10-year Treasury bond fell 0.6% to 1.96%.
The price of gold was up 0.7% to $1,195.
SERVICES
Irvine-based CoreLogic Inc. was up 7.2% to $38.18 and a $3.4 billion market cap. The data analytics company reported first quarter operating revenue of about $365 million after markets closed yesterday, up 12% from $326 million in the same period last year. Net income was about $29 million, compared with a net loss of $3.2 million in the same period last year.
RESTAURANTS
Huntington Beach-based BJ's Restaurants Inc. was up 5.8% to $53.46 and a $1.4 billion market cap. Shares in the casual dining chain were buoyed by comparable companies' recent quarterly reports and anticipation of its own results, due after markets close today. BJ's stock has risen after each of its last two quarterly reports.
HEALTHCARE
Irvine-based Biolase Inc. was down another 4% to $2.19 and a $127 million market cap. Shares fell about 13% yesterday on high trading volume on news that former chairman and chief executive officer Federico Pignatelli had withdrawn his nomination for a slot on the dental laser maker's board of directors. The company's annual meeting is scheduled for Monday, April 27 and its quarterly results are expected on Thursday, April 30.