Taco Bell Revenue Up
Wednesday, April 22, 2015
Share this article: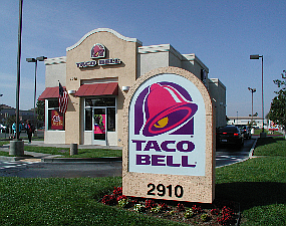 The parent company of Irvine-based Taco Bell Corp. said new store openings and same-store sales increases boosted the Mexican-themed fast food chain's revenue by 9% in the first quarter of this year.
Louisville, Ky.-based Yum Brands Inc. reported results yesterday after markets closed.
Operating margin at Taco Bell increased 5.2 percentage points to 26.6%, and operating profit increased 37%.
It opened 47 new restaurants in the first quarter, which ended March 21. The chain had 6,228 locations as of that date, compared with 6,055 a year earlier.
Taco Bell is the largest restaurant chain based in Orange County across several categories, with systemwide sales of about $7.8 billion in 2013.
Its revenue growth topped Yum's overall first-quarter revenue and that of the parent's other brands, which include KFC and Pizza Hut. KFC's revenue rose 8%, and Pizza Hut's dropped 2%, the company said.
Yum's companywide quarterly revenue fell 4% to $2.62 billion, with profits of $362 million.
Yum's revenue narrowly missed analysts' projections; its profit topped estimates by about 10%.
It didn't break out revenue dollar figures for individual brands.
Yum's shares traded 5% higher Wednesday morning at a market cap of $37 billion.