Irvine Restaurant Group Plans 12 OC Franchises
Thursday, April 16, 2015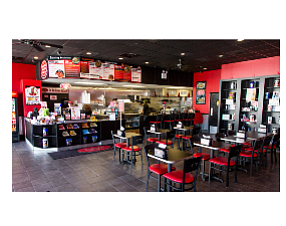 Irvine-based American Restaurant Holdings Inc. said it signed an Orange County franchisee for Muscle Maker Grill, the restaurant chain in Colonia, N.J. that an affiliate acquired in January.
The franchisee, Orange-based Veejay LLC, plans 10 locations in the next five years, with the first expected in early 2016.
American Restaurant plans to open two company-owned locations in Irvine this summer, in addition to franchised locations that Veejay would open under the deal.
Viresh and Jyoti Varma co-own Veejay.
Viresh Varma is a partner in a company that franchises a location of the chain in Pittsburgh.
"The business model and the menu [are] apt for Orange County," Viresh Varma said.
The chain's menu includes health-oriented items, such as nachos made with turkey chili and a sandwich wrap with grilled chicken and reduced-fat cheese.
Varma's background is in food distribution, which includes being a snack products licensee of the "Got Milk?" campaign of the San Clemente-based California Milk Processor Board.
The Muscle Maker Grill franchise fee is $35,000 with royalty and marketing fees of 6%.
Franchisees are also expected to spend 1% to 2% on local marketing, and total start-up costs for a location can range from $187,500 to $400,000, said Tim Betts, chief executive of American Restaurant Holdings and its affiliate that bought Muscle Maker.