Del Taco Plans Debt Pare Down, TACO Ticker
Wednesday, April 15, 2015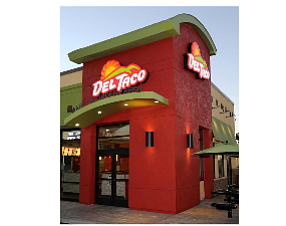 Lake Forest-based Del Taco Holdings Inc. would cut its debt by $139 million—or more than 40%—if its acquisition by Chicago-based Levy Acquisition Corp. closes as planned in June, according to documents filed with the U.S. Securities and Exchange Commission.
The company that would emerge from this acquisition—Del Taco Restaurants Inc.—will seek to trade under the ticker symbol "TACO," the filing said.
Levy currently trades under the ticker symbol "LEVY."
Levy's acquisition of the Mexican-themed fast food chain was announced March 12 and commenced March 23 with an initial equity investment of $120 million from an investor group led by Chicago restaurateur Lawrence Levy, chairman of Levy Acquisition Corp.
Levy Acquisition Corp.'s SEC filings—today and on April 2—shed some financial light on the transaction.
The filings show total debt being cut from about $330 million to about $191 million—or about 42%. Del Taco's annual interest payments would drop by at least $13 million if the deal goes through, the company said.
Del Taco had annual interest payments of about $31 million in 2014.
The filings show 2014 revenue of $396 million, with $381 million from about 300 company-owned stores and $15 million from franchise revenue and sublease income from about 250 franchised restaurants.
The filings show 2014 adjusted earnings before interest, taxes, depreciation and amortization at $59 million with a 2015 estimate of $63 million.
The filings show average unit volumes systemwide of $1.2 million and that the chain's company-owned stores AUV grew from $1.2 million in 2013 to $1.3 million in 2014. It did not break out the number for its franchised locations.
New units are projected to grow to an average unit volume of $1.35 million in three years.
Del Taco Holdings Inc. had a net loss of $9.3 million in 2014, the documents show.
The chain has about 550 locations in 16 states, with $622 million in systemwide sales.