NB Startup Raises $23M
Monday, April 13, 2015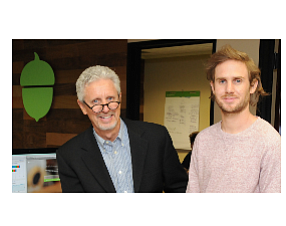 Newport Beach startup Acorns Grow Inc. has raised $23 million in a Series C round to fuel the growth of its smartphone app that aims to bring microinvesting to the masses.
Acorns will use the proceeds to scale and drive product innovations, the company said.
The investment was co-led by Greycroft Partners and e.ventures. Other backers included Sound Ventures, Garland Capital, and MATH Venture Partners.
The iOS and Android app has seen strong adoption since its launch last year, with more than 650,000 members who have opened more than 300,000 investment accounts. The company has processed more than 28 million trades and linked more than 1 million credit and debit cards.
Acorns, established last year by OC investment banking pioneer Walter Cruttenden and his son Jeff, is targeting lower-income wage earners and younger workers with the app that allows users to invest small amounts of money—change on the dollar—without commissions or minimum balances.
About 75% of investors are under 35 years old, according to the company.
The apps also can also round up credit and debit card purchases to the nearest dollar, investing that spare change.
Its recommendation engine—developed by Jeff Cruttenden—spits out a portfolio of index funds constructed by a team of mathematicians and engineers, including Nobel Prize-winning economist Harry Markowitz, known as the father of Modern Portfolio Theory.
The portfolios are comprised of index fund ETFs offered by three of the world's largest money managers: Blackrock, Vanguard and Newport Beach-based Pacific Investment Management Co.
Acorns has now raised $32 million.