Alternative Lender to Irvine HQ
Wednesday, April 8, 2015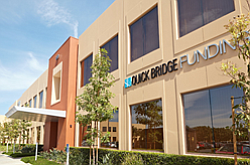 Quick Bridge Funding LLC, an alternative lender specializing in short-term financing, has moved its headquarters from Orange to Irvine, taking 17,000 square feet at Market Place Center.
Quick Bridge provides various working capital loans for small and midsize businesses nationwide.
The firm was founded in 2011 by Ben Gold and Jason Osiecki, who serve as president and vice president, respectively. It now employs 94 workers.
Revenues have grown at a rapid pace over the past few years. Quick Bridge had about $35 million in revenue for the year through June 2014, a more-than-2,000% jump from $1.5 million two years prior. The growth landed the company at the top of the Business Journal's latest list of the fastest-growing midsize companies with headquarters in Orange County.
Quick Bridge said it also opened a satellite office in New York City to better serve and maintain relationships with its network of sales organizations on the East Coast.