Midday Stock Roundup
Thursday, April 2, 2015
Share this article: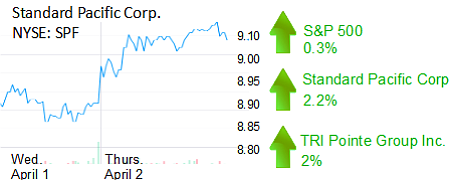 The S&P 500 was up 0.3% to 2,065.62 in midday trading.
The Dow Jones Industrial Average was up 0.3% to 17,742.66 and the Nasdaq was up 0.2% to 4,887.88.
The yield on a 10-year Treasury bond rose 1.6% to 1.9%.
The price of gold fell 0.6% to $1,201.
HOMEBUILDERS
Orange County homebuilders are up on sector strength—with about a dozen comparable companies in various parts of the country up 1% to 3%—and positive economic news related to jobs and international trade.
Standard Pacific Corp. is up 2.2% to $9.09 and a market value for its common stock of $2.4 billion. Irvine-based Tri-Pointe Group Inc. was up 2% to $15.46 and a $2.4 billion market cap. Newport Beach-based William Lyon Homes was up 2.3% to $26.09 and a $795 million market cap. Aliso Viejo-based New Home Company Inc. was up just under 1% to $16.64 and a $276 million market cap.