Gross to Open Janus Office at 520 Newport Center Tower
Tuesday, September 30, 2014
Share this article: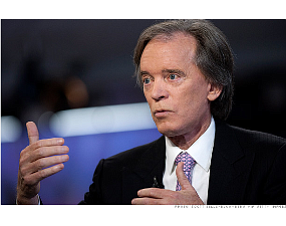 Bill Gross will be setting up shop for Janus Capital Group Inc. at the 520 Newport Center office building in Newport Beach, according to real estate sources.
Gross, who last week shocked the financial world by announcing his departure from bond giant Pacific Investment Management Co., is expected to lease space on one of the lower floors of the newly-built 520 Newport Center office tower.
The 21-story tower's core construction is now completed, although no tenants have yet to move into the building, which is located next to the Fashion Island shopping center.
The tower was developed by Newport Beach'-based Irvine Co.
Janus, which currently does not have an office in Newport Beach, is expected to lease a modest amount of space at the 520 Newport Center tower, at least initially.
Real estate sources cited Irvine Co.'s ReadyNow offices, which offer move-in-ready suites to smaller tenants, as a likely starting spot for Janus.
Those spaces tend to run around 3,000 square feet, and can hold a dozen or so employees.
That amount of space is a far cry from Gross' former offices. Pimco's new headquarters at 650 Newport Center Drive, which opened earlier this year, runs about 380,000 square feet.
The 520 Newport Center tower is located about a block from Pimco's headquarters.
Officials from Irvine Co. declined to comment on the rumored lease.
"Newport Center is a hub for the financial industry and we are always talking with companies about locating there. But we do not have any news to announce today," Irvine Co. spokesman Mike Lyster said in a statement.
Gross joined Denver-based Janus this week. His duties at Janus will include the recently launched Janus Global Unconstrained Bond Fund and work on Janus' global asset allocation.
Gross said last week that he wants to re-focus on "fixed income markets and investing" instead of running a large organization. Pimco has nearly $2 trillion in assets. Janus has about $178 billion.