More Johnny Rockets Overseas
Thursday, September 25, 2014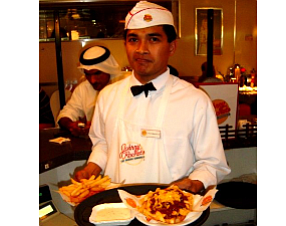 Aliso Viejo-based hamburger chain Johnny Rockets Inc. said it plans to open four or five new restaurants in South America by the end of the year and another seven in 2015, adding to the 13 it has there now.
The newest is a franchised location in an 861,000-square-foot international mall in Santa Cruz, Bolivia—a new country for the chain.
A multi-unit franchisee called The Daher Group based there plans at least two more in Bolivia, including another in Santa Cruz and one in the nation's capital La Paz.
In South America Johnny Rockets has restaurants in Brazil, Chile and Ecuador, and now Bolivia; Colombia is next.
It also has 21 locations in Mexico and wants to expand in the Caribbean as well.
The company has said it would double its international reach by 2017. It has about 100 franchised locations overseas and 328 company-owned and franchised restaurants system-wide, with $326 million in sales.
Johnny Rockets is owned by an affiliate of private equity investors Sun Capital Partners Inc. in Boca Raton, Fla.