Midday Stock Roundup
Thursday, September 25, 2014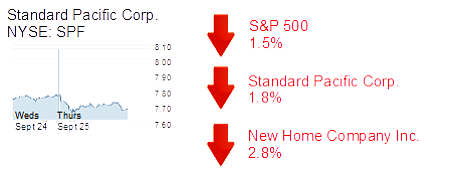 The S&P 500 fell 1.5% to 1,968.46. The Dow Jones Industrial Average dropped 1.4% to 16,964.93, and the Nasdaq was down 1.9% to 4,470.72
The yield on a 10-year Treasury bond fell 2.45% to 2.51%.
The price of gold was up 0.16% to $1,224.30.
HOMEBUILDING
OC homebuilders were down today on a broad sell-off in the markets today, despite a U.S. Commerce Department report that new U.S. single-family home sales surged 18% in August to an annual rate of 504,000. The department also revised July numbers to show a 1.9% gain instead of a 2.4% decline. The numbers were overshadowed by global concerns related to strife in the Middle East and Russia.
Irvine-based Standard Pacific Corp. was down 1.8% to $7.60 and a market capitalization of $2.2 billion. Aliso Viejo-based New Home Company Inc. was down 2.8% to $13.08 and a market cap of $219 million. Irvine-based Tri Pointe Homes Inc. and Newport Beach-based William Lyon Homes were each down just less than 1% to market caps of $2.2 billion and $725 million, respectively.