Mazzo Added to Insider Trading Indictment
Originally published September 24, 2014 at 4:30 p.m., updated September 24, 2014 at 4:55 p.m.
Share this article: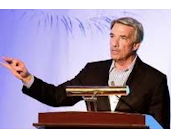 Veteran Orange County medical device executive James V. Mazzo was added to a federal grand jury indictment on insider trading charges, the Department of Justice said today.
"Mr. Mazzo flatly and unequivocally denies the government's allegations. Mr. Mazzo has a spotless reputation for professionalism, integrity, and service to his community, built up over a career of 30 years. The notion that he would put all that at risk to give a single friend inside information is absurd. Any claim that he engaged in unlawful conduct is totally baseless," said Mazzo's attorney, Richard Marmaro, a partner with Skadden Arps Slate Meagher & Flom LLP in Los Angeles, in a statement.
Mazzo is a former chief executive of Santa Ana-based Advanced Medical Optics Inc. who currently is chief executive of Irvine-based AcuFocus Inc. and serves as operating partner out of the Newport Beach office of Versant Ventures. The Justice Department said in a release that he has been added to an indictment that previously named former professional baseball player Douglas V. DeCinces and two of his associates, real estate attorney Fred Scott Jackson and David Parker.
The case was initially filed in 2012.
Today's action, called a "superseding indictment," charges Mazzo with providing confidential information to DeCinces in advance of Chicago-based Abbott Laboratories' $2.8 billion buy of Advanced Medical in 2009.
The superseding indictment further alleges that Mazzo previously provided DeCinces with inside information in relation to Advanced Medical's $800 million buy of Irvine-based IntraLase Corp. in 2007.
Mazzo is charged with 13 counts of insider trading, 13 counts of tender offer fraud and one count of securities fraud. He and the other defendants will be summoned to appear for arraignment in the U.S. District Court in Santa Ana.