Freedom to Shutter LA Register
Tuesday, September 23, 2014
Share this article: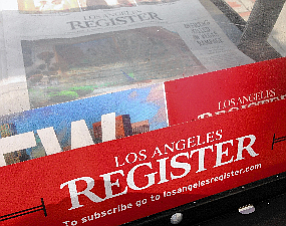 Santa Ana-based Freedom Communication Inc. said it will stop publication of the Los Angeles Register, according to a memo from Chief Executive Aaron Kushner and co-owner Eric Spitz to employees Monday evening.
"As we look ahead, we are examining all aspects of our newspapers to determine the geographic areas and news topics that are most profitable and deliver the most value to our subscribers," the memo stated. "To that end, we have made the decision to cease publication of the Los Angeles Register, effective immediately…There will be some staff changes with our content team as part of the changes in Los Angeles. For those that will be leaving, we say thank you."
The parent of the Orange County Register and Riverside Press-Enterprise has been trimming operations in recent months, reducing the frequency of several publications, laying off staff, and sending others on mandatory, unpaid furloughs.
Freedom now plans to "direct more of our focus and energies toward growing and delivering even more value in our core markets of Orange County, Riverside and San Bernardino Counties. We have deep relationships with subscribers and advertisers in those markets that extend for decades."
The memo from Kushner and Spitz hinted that layoffs are likely with the shutdown in Los Angeles.
The losangelesregister.com website will continue to publish content of "specific interest to Los Angeles and the region, such as real estate, food, concerts or Lakers basketball."