Del Taco Plans 28 Southeast Sites
Tuesday, September 23, 2014
Share this article: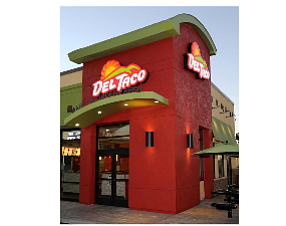 Lake Forest-based Del Taco LLC said it will open 28 new locations in the Southeast United States.
One will be corporate owned and 27 will be franchised, the company said.
All 27 franchised locations are under multi-unit operator agreements including 18 in Alabama, five in South Carolina and four in Georgia.
Franchisee Clay Gullatt opened his first of three in Columbus, Ga., in August. Another franchisee's location recently opened in Columbia, S.C., and a company-owned site opened in Marietta, Ga.
Five of 13 new Del Taco locations in the last year have been in the Southeast U.S. including in Georgia and Alabama. Others have opened only in California, Colorado and Oklahoma.
The company announced in July a package of franchisee incentives for opening in new markets including reduced franchisee fees and royalty payments for multi-unit operators and veterans and minorities.
The standard initial franchise fee is $35,000 and the royalty is 5%.
Del Taco has 549 restaurants in 17 states. Del Taco ranked No. 4 on the Business Journal's recent list of OC-based restaurant chains with $622 million in system-wide sales.