Midday Stock Roundup
Thursday, September 18, 2014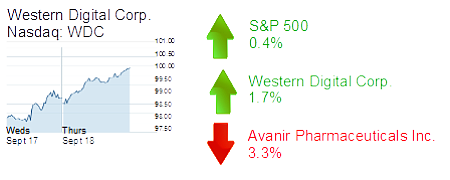 The S&P 500 rose 0.4% to 2,009.61 in midday trading.
The Dow Jones Industrial Average rose 0.54% to 17,250.07 and the Nasdaq rose 0.6% to 4,589.63.
The yield on a 10-year Treasury bond rose 0.77% to 2.62%.
The price of gold was down 0.86% to $1,228.60.
TECHNOLOGY
Irvine-based Western Digital Corp. was up 1.7% to $99.47 and a market cap of $23.3 billion. Los Angeles-based RBC Capital Markets increased its target price for the storage maker's shares to $107 and kept its "outperform" rating on the stock.
HEALTHCARE
Aliso Viejo-based Avanir Pharmaceuticals Inc. was down 3.3% to $12.08 and a market cap of $2.1 billion on profit-taking amid high volume after the company reported positive clinical trials for an Alzheimer's drug earlier this week. On Monday the stock jumped about 80%, up from $6.49. By midday today it had traded more than 6.5 million shares, nearly double its 90-day average volume.