Johnny Rockets Launches Smaller Sites
Tuesday, September 16, 2014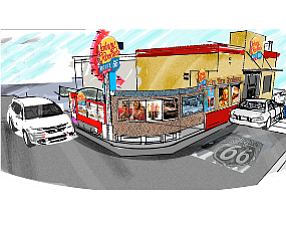 Aliso Viejo-based Johnny Rockets Inc. said it would develop several types of smaller restaurants and work with an outside company to develop some of them, according to reports.
The Americana-themed burger chain plans a drive-thru, a drive-in, a food truck and a movie theater pop-up version under the Johnny Rockets Route 66 name.
The company said it would have some new units open by the end of the year, with a full roll-out in early 2015.
It will work with Franklin, Ind-based USA Drive-Ins LLC on the drive-in and the movie theater pop-up. Drive-Ins LLC reportedly plans to open 200 drive-in movie theaters with the smaller Johnny Rockets unit as the on-site restaurant.
The four new restaurant types will offer the same core menu but fewer items and tap restaurant trends such as mobile ordering and food trucks.
Johnny Rockets has about 320 restaurants system-wide, a third of them in 28 foreign countries, and had $326 million in sales last year, good for No. 8 on the Business Journal list of OC-based restaurant chains.
It's owned by an affiliate of Boca Raton, Fla.-based Sun Capital Partners Inc.