Anaheim Bathtub Maker Sold
Thursday, September 4, 2014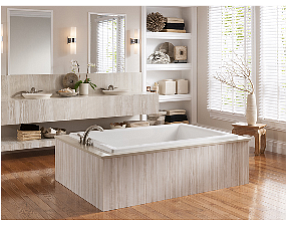 Anaheim-based bathtub manufacturer Aquatic has been acquired by the Sterling Group, a private equity firm in Houston.
Aquatic, which has about 725 employees, operates manufacturing facilities in six states, where it makes tubs, showers, doors and other accessories. The company didn't break out Orange County employment numbers.
Aquatic distributes to builders, architects and hospitality companies, among others. It had about $114.5 million in sales in 2012, the latest figures available, according to its previous owner, London-based engineering and manufacturing company Tomkins PLC.
Tomkins created Aquatic in 2010 by merging subsidiaries Lasco Bathware and Aquatic Whirlpools. Tomkins overall had about $2.9 billion in revenue last year.
The price paid for Aquatic wasn't disclosed, but Sterling said it typically invests between $40 million and $100 million in target companies and prefers those with between $100 million and $500 million in market value, including debt.
Sterling has about $1 billion in assets under management.